Newest Post
// Posted by :Index
// On :Minggu, 14 Oktober 2012
ANOTHER SUB INDONESIA


Another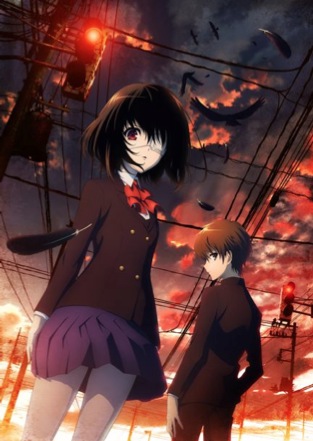 Type: TV
Episodes: 12
Status: Finished Airing
Aired: Dec 26, 2011 to Mar 27,
2012
Producers: Lantis, Kadokawa
Shoten, P.A. Works, Toho
Company, Sentai FilmworksL,
The Klock Worx
Genres: Mystery, Drama,
Horror, School
Duration: 24 min. per episode
Rating: R - 17+ (violence &
profanity)
26 tahun lalu, di kelas tiga
sekolah menengah, ada
seorang murid bernama
Misaki. Sebagai siswa
kehormatan yang juga baik
dalam olahraga, gadis
menawan itu populer dengan
teman-teman sekelasnya.
Ketika ia tiba-tiba mati,
teman-teman sekelasnya
memutuskan untuk
melanjutkan seolah-olah dia
masih hidup sampai lulus.
Kemudian, pada musim semi
tahun 1998, seorang anak
bernama Sakakibara Kouichi
transfer ke kelas itu, dan ia
tumbuh curiga suasana
menakutkan di kelas itu.
Secara khusus, ada seorang
gadis, cantik menyendiri
bernama Mei Misaki yang
memakai penutup mata dan
selalu menggambar gambar
saja.

Another 01 3gp
Another 02 3gp
Another 03 3gp
Another 04 3gp
Another 05 3gp
Another 06 3gp
Another 06 MP4
Another 07 3gp
Another 07 MP4
Another 08 3gp
Another 08 MP4
Another 09 3gp
Another 09 MP4
Another 10 3gp
Another 10 MP4
Another 11 3gp
Another 11 MP4
Another 12 3gp (END)
Another 12 MP4 (END)
(by:newdkom)
Related Posts :
3gp, anime, mp4, sub indonesia